The SRJO has invited numerous internationally acclaimed guest soloists and composers (twelve of them NEA Jazz Masters) to join in its concerts, including trumpeters Clark Terry and Arturo Sandoval; saxophonists Benny Golson, James Moody, Jimmy Heath, Frank Foster, Frank Wess and Kenny Hing; trombonist Slide Hampton; bassist Buddy Catlett; composers Toshiko Akiyoshi, Gerald Wilson, William O. Smith and Jovino Santos Neto; and singers Marlena Shaw, Ernie Andrews, Dean Bowman, Dee Daniels and Ernestine Anderson. In 2001, Quincy Jones conducted the SRJO at the Seattle Opera House in a performance of works he wrote for the Basie band and his own groups.
Internationally acclaimed clarinetist and saxophonist Anat Cohen performing with SRJO in February 2015.
Grammy Award winning vocalist Carmen Bradford joined SRJO in April 2015.
Branford Marsalis with Artistic Directors Clarence Acox and Michael Brockman at an event before our November 2012 concerts.
NEA Jazz Master James Moody (shown backstage with SRJO co-director Michael Brockman) appeared with the SRJO in November 2008 and in 2002.
James Moody playing with the SRJO, 2002-03 Season
Quincy Jones directing the SRJO in concert at the Seattle Opera House, Nov. 12, 2001
Clark Terry, Don Lanphere and Michael Brockman backstage following the SRJO's concert, October 2000.
Marlena Shaw joined the SRJO in March 2004 for a rousing concert of her favorite jazz songs by George Gershwin, Cole Porter, Jerome Kern, Irving Berlin, Duke Ellington, and many others.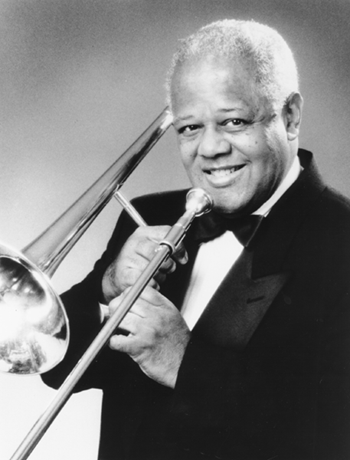 Slide Hampton with SRJO in 2003
Clark Terry in rehearsal with the SRJO, October 2002
Left to Right: Floyd Standifer, Clarence Acox, Buddy Catlett, guest saxophonist Jimmy Heath, and Michael Brockman, backstage at the Kirkland Performance Center